The result of many years of cooperation between graduates from the Fryderyk Chopin
University of Music in Warsaw is an uprising Polish Bassoon Quartet (PBQ).
Its members are:

- Katarzyna Zdybel-Nam,
- Alicja Kieruzalska,
- Grzegorz Dabrowski,
- Dariusz Bator,
Antoni Dabrowski (cooperation with PBQ)
- leading bassoonists permanently related with the most important orchestras and academic environment in Poland.

All artists conduct lively concert activities - solo and chamber, as well as pedagogical.
They perform both on Polish and international music stages. Juggling with the classical repertoire and music from the borderline of the classics and entertainment - pieces arranged for four Bassoons and three Bassoons with a Contrabassoon, share with the audience
what is most important to them - their passion.




One of the most accomplished Bassoonists of the young generation, began her bassoon education in 1998 studying with Jerzy Lisak at the State Music School in Zamosc (Poland). From 2002 to 2007 she studied at the Academy of Music (currently Fryderyk Chopin University of Music) in Warsaw with Professor Zbigniew Pluzek. Three years later she completed her postgraduate studies (Solistenklasse) with honors degree in Hochschule für Musik in Stuttgart where she studied with Professor Marc Engelhardt. Since 2009 to 2013
she was a PhD student in Professor Czes³aw Klonowski's class at the Karol Lipinski Academy of Music in Wroclaw and gained the PhD degree in 2015.

She participated in numerous masterclasses and private lessons with Sergio Azzolini, Klaus Thunemann, Milan Turkovic, Frantisek Hermann, Richard Galler, Frank Morelli, Tomas Frantis, David McGill.

Since 2014 she is Lecturer in the Bassoon class at Wroclaw Music Academy.

She is a winner of numerous competition. The most important awards are: 2nd Prize
(1st not awarded) and the prize for the best performance of the new composition at the International Competition for Wind and Percussion Instruments held at Moscow Conservatory in 2009, 1st Prize at the G. Rossini International Bassoon Competition in Pesaro (Italy) and one month later 1st Prize at the International Competition for Wind Instruments in Chieri (Italy) in 2010, 1st Prize at the Gillet-Fox International Bassoon Competition in Oxford (Ohio) in July 2012 and in September 2012 she won 2nd Prize and a special Prize at VI Michal Spisak International Music Competition in Dabrowa Gornicza.

As a soloist she performed with numerous orchestras: Sinfonia Varsovia Orchestra, Stuttgarter Kammerochester, Moscow Conservatory Symphony Orchestra, Moscow Conservatory Chamber Orchestra, Orchestra Filarmonica di Torino, Warsaw Music Academy Symphony Orchestra, Lodz Academy of Music Symphony Orchestra, K. Namyslowski Symphony Orchestra in Zamosc, Wroclaw Philharmonic Orchestra, Chamber Orchestra Leopoldinum, Capella Cracoviensis.

As a Solo-Bassoonist she cooperated with many orchestras: Opera in Copenhagen
(Royal Danish Orchestra), Iceland Symphony Orchestra, Swedish National Symphony Orchestra in Goethenburg and the Goethenburg Opera season, Lausanne Chamber Orchestra, Sinfonietta Cracovia, SWR Saarbrucken-Kaiserslautern Philharmonic Orchestra, Sinfonia Varsovia, Polish Chamber Orchestra in Sopot, Leopoldinum Chamber Orchestra, Beethoven Academy Orchestra in Krakow, Polish National Symphony Orchestra
in Warsaw.

Since 2007 she is a Solo-Bassoonist of the Wroclaw Symphony Orchestra (Poland).
In 2014 she released two solo albums with her recordings - "Portrait" (CD Accord) and "Poetry of the sound" (TV Zamosc).

Bassoonist, born in Toronto. Graduate of the Staatliche Hochschule für Musik und Darstellende Kunst in Stuttgart (class of Professor Marc Engelhardt) andthe Fryderyk Chopin University of Music in Warsaw (class of Professor Bogumil Gadawski). In 2011 she also completed with distinction her postgraduate studies in Stuttgart. She developed her abilities with such eminent bassoon masters as Dag Jensen, Marco Postinghel, David Seidel, Gustavo Nunez, Giorgio Mandolesi, and others.
She has received scholarships from the Minister of Culture and National Heritage, the Polish Children's Fund, DAAD and the Musikstiftung Landesbank Karlsruhe. She then worked in the opera (Ludwigsburger Akademie and Junge Oper Stuttgart). She has performed with such ensembles as the orchestras of Hamburg and Stuttgart Opera, Heilbronn and Mannheim Kammerorchestern, Thüringen Philharmonie Gotha, as well as the Polish AUKSO Chamber Orchestra of the City of Tychy and NFM Leopoldinum Chamber Orchestra.

In 2006-2009 she played the Bassoon and Contrabassoon at the Grand Theatre - National Opera in Warsaw, and in 2009-2011 she was a soloist of the Polish Sinfonia Iuventus Orchestra. She was awarded a scholarship of the Villa Musica chamber music foundation (Germany). She won a trial period in the Royal Philharmonic Orchestra. Since 2010 -
a member of NFM Symphony Orchestra; she also plays in NFM Ensemble.

He graduated from the Fryderyk Chopin Academy of Music in Warsaw in 1992, having been a student in Bogumil Gadawski's Bassoon class. In 1995 he started his music studies at Yale University (USA) with Frank Morelli, earning his Master of Music degree in 1997. He was the winner of the 1st prizes in competitions held in Koszalin (1986) and Wloszakowice (1992).

While still being a student, he worked with the Warsaw Chamber Orchestra. In the years 1990-2007 he played as the Principal Bassoon with such ensembles as the Camerata Academia Orchestra in Warsaw (1990-1995), Polish Radio Orchestra in Warsaw (1992-1995), Polish Chamber Philharmonic Orchestra in Sopot (1994-1995); Philharmonia Orchestra of Yale, Yale Symphony Orchestra, New Haven Symphony Orchestra, Norwalk Symphony Orchestra, Lyric Mountain Festival Orchestra (USA, 1995-97); Roma Musical Theatre ensemble in Warsaw (1997-2005), and Symphony Orchestra in Plock (1997-2007). In 1999, he was auditioned for and admitted to the Polish Festival Orchestra under Krystian Zimerman, with whom he made tours across Europe and the USA, and recorded a CD album. At that time he also began his long-term collaboration with National Philharmonic Orchestra and Sinfonia Varsovia Orchestra, the collaboration continuing until the present day. It is with these ensembles that he has had an opportunity to perform an extensive repertoire of symphonic music, including some new works (also those publicly presented for the first time) by leading contemporary Polish composers. He has played under such renowned conductors as Witold Lutoslawski, Krzysztof Penderecki, Jerzy Maksymiuk, Jan Krenz, Henryk Czyz, Jerzy Semkow, Stanislaw Skrowaczewski, Gabriel Chmura, Kazimierz Kord, Antoni Wit, Jacek Kaspszyk, Michael Corboz, Kurt Masur, Marc Minkowski, Shinik Hahm, or Christopher Warren-Green.

He has performed at a number of festivals at home and abroad, including the prestigious Warsaw Autumn Festival, Wratislavia Cantans Festival in Wroc³aw, Ludwig van Beethoven Easter Festival (organized by the Ludwig van Beethoven Association), La Folle Journee in Nantes (France), Schleswig-Hollstein Music Festival (Germany), as well as in many well-known concert halls in Europe and the rest of the world.

Throughout his artistic career he has also performed as a soloist and a member of chamber ensembles. He has played bassoon concertos by A. Vivaldi, W.A. Mozart, and C.M. Weber in Poland with Lublin Philharmonic Orchestra, Jelenia Gora Philharmonic Orchestra, Pomeranian Philharmonic Orchestra, Crown Tribunal Orchestra in Lublin, Symphony Orchestra of P³ock, Torun Chamber Orchestra, and Classical Orchestra of Pi³a, and in the USA with Connecticut Virtuosi Chamber Orchestra. As a chamber musician he also frequently works with artists from Bydgoszcz. In 2012, for example, with the pianist Magdalena Swatowska, he recorded an album featuring sonatas by C. Saint-Saens, Ch. Koechlin and P. Hindemith. Since 1998 he has been teaching his own Bassoon class as a Associate Professor at the Feliks Nowowiejski Academy of Music in Bydgoszcz.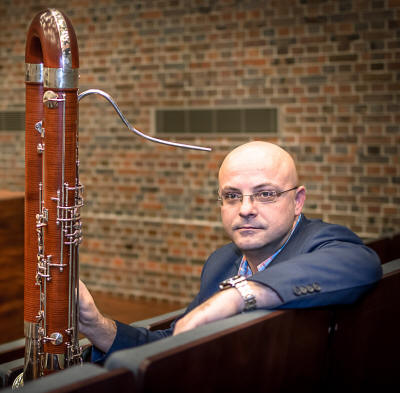 Dariusz Bator

Born November, 1974 in Lublin, Poland. He started his music education in his hometown.
He graduated from the Joseph Elsner High School of Music in Warsaw where he completed
a Bassoon class led by Artur Kasperek. In 1994 and 1999 he studied at Warsaw Academy
of Music with Professor Bogumil Gadawski. In May 1999 he won the First Place Award
for Academic Bassoonist in Poland. The same year, in August he left Poland to study
at The Boston Conservatory, where he got a full scholarship. During his time in Boston,
he studied with Suzanne Nelson - Bassoon (Boston Symphony Orchestra) and David Ohanian - Chamber Music (Boston Symphony Orchestra and Canadian Brass).

As a student of the third year at Warsaw Academy of Music he passed the audition to the Polish Radio Orchestra in Warsaw and for the next six years worked as a Bassoonist and Contrabassoon-player there. From 1997 to 2002 he cooperated with the Polish Chamber Philharmonic in Sopot, National Philharmonic in Warsaw and Chopin Academy Orchestra.
In the years 2002-2006 he was a member of Philharmonic of the Nations.

As an orchestral musician he has made a lot of recordings for Polish Radio Co. He has
worked with such important conductors as: Bassem Akiki, Jacek Miroslaw Blaszczyk, Piotr Borkowski, Tomasz Bugaj, Michel Camen, Henryk Czyz, Gabriel Chmura, Agnieszka Duczmal, Krzesimir Debski, Przemyslaw Fiugajski, Walter Gugerbauer, Chikara Imamura, Maurice Jarre, Kurt Masur, Jacek Kaspszyk, Jerzy Katlewicz, Kazimierz Kord, Michal Klauza, Pawel Kotla, Jerzy Maksymiuk, Wojciech Michniewski, Enio Morricone, Marcin Nalecz-Niesiolowski, Grzegorz Nowak, Krzysztof Penderecki, Pawel Przytocki, Sebastian Perlowski, Marek Pijarowski, Wojciech Rajski, Wojciech Rodek, Jerzy Salwarowski, Andrzej Straszyñski, Tadeusz Strugala, Antoni Wit, Tadeusz Wojciechowski. He has had concerts with the following musicians: Alexander Bunin, Nelson Goerner, Krzysztof Jakowicz, Konstanty Andrzej Kulka, Piotr Paleczny, Isabelle Moretti, and Daniel Muller-Scott. He has played in almost every important concert hall in Europe, including: Athens, Barcelona, Birmingham, Colon, Copenhagen, Dublin, Düsseldorf, Alte Oper in Frankfurt, Istambul,
Kiev, Royal Festival Hall in London, Nuremberg, Stockholm, Vilnius,
Ton Halle in Zurich, Schleswig-Holstein.

Since 2002 Dariusz he has been working as a Principal Bassoonist at the Wroclaw Opera Orchestra, and since 2004 he has been working as a Senior Lecturer at The Wroclaw Academy of Music.

Between 2003 and 2005 he studied Master Class of Professor Czeslaw Klonowski at The Karol Lipinski Academy of Music in Wroclaw.

Since 2017 till 2019 he has been Deputy Dean of the Instrumental Department at The Wroclaw Academy of Music.

In September 2019 he has got PhD Degree. His Dissertation Work Theme is: Similarities and differences in German System Bassoon and Contrabassoon playing techniques.

He is the founder of the ContraPanioDuet and Polish Bassoon Quartet - ensamble whose artistic activity was inaugurated with a chamber concert at the National Forum of Music in Wroclaw (Poland) in October 2020.

Young generationBassoonist, who permanently cooperates with PBQ. He started Bassoon education in 2012 at the Complex of State General Secondary and Secondary Music Schools Grazyna Bacewicz in Warsaw. He studied in the class of Andrzej Budejko and Professor Grzegorz Dabrowski - his father. He improved his skills during master classes in equipment by: Zbigniew Pluzek, Leszek Wachnik, Arkadiusz Adamczyk, Damian Lipien, Artur Kasperek, Katarzyna Zdybel-Nam, Sophie Dartigalongue and Matthias Racz.

He is a laureate of national and international competitions, incl. Grand Prix of the Wind Instrument Competition Boleslaw Strawa and Franciszek Krzeminski in Lublin (Poland).

As a soloist and chamber musician, he gives concerts in Poland and abroad. Together with the School Symphony Orchestra and the Sinfonia Iuventus Orchestra of Jerzy Semkow performed Andante and the Hungarian rondo op. 35 C.M. von Weber and Micha³ Spisak's Bassoon Concerto. He was admitted to the Polish Lutoslawski Youth Orchestra three times. He also collaborates with the Polish Radio Orchestra in Warsaw and the Polish Film Music Orchestra.

Currently, he continues his studies in the class of Professor Zbigniew Pluzek at the Fryderyk Chopin University of Music in Warsaw.